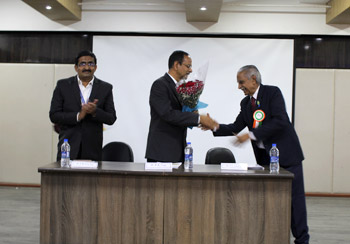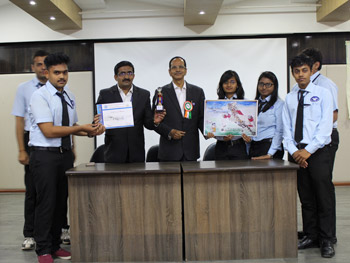 The key note address deliver by Chief Guest Dr. R.K. Tyagi stated that this type of event brings in significant awareness on the safety aspects of the industry. More importantly he stressed the challenges of the Indian Aviation industry which is rapidly expanding to reach the number one position globally in the next 10 years. He also particularly mentioned about the new aviation policy which will bring in faster development in the area of infrastructure and skilled manpower. Therefore there are huge opportunities and potentials for the young student generation to take up challenging assignments.
Subsequent to the Chief Guest address an Aviation Play was enacted by TIAT students and it received an overwhelming applause from the audience. The inaugural session concluded with chief guest distributing the prizes to the winners/ runners of the safety poster competition.
The technical session on "Challenges of Emerging technology in Aviation" commenced at 1130 hours.
Mr. Babu Peter Executive vice President of Goair made a presentation on " Growth in aviation and cost effective Indian MRO-a perfect match for Make in India program. He gave a brief account of the domestic and international traffic of the Indian carriers and their fleet expansion. He particularly mentioned the challenges faced by Indian MROs and the certain provisions of the new aviation policy of the Government of India which may provide stimulus for the MRO. But it needs further acceleration and concrete steps to attract the MRO business in India and make it very competitive. ¯
The second lecture was on Aviation Fuel –Refining to Refueling by Mr. Sanjay Sahay, General Manager Aviation, Indian Oil Corporation and he elaborated the measures in transporting the fuel and precautions / checks undertaken to ensure the quality for safe operation.
The final lecture of the technical session was on Airlines Safety and Emergency Responses by Mrs. Harpreet A.De. Singh Executive Director , Chief of Flight Safety & Head of corporate safety & environment management system. She brought out the salient difference between Safety and emergency response .In order to emphasize the importance of strictly following the Standard Operating Procedures documented in the Emergency response manual. A case study example was explained in details.
This occasion was also used to present IWPA awards to women student achievers of TIAT. All the 10 students received their certificate of honor from Mrs. Harpreetsingh , President of IWPA.
The inaugural session welcome address by Mr. P.S.Ganapathy , Chairman of the Aeronautical Society of India, Mumbai branch. Dr.S.M. Ganchari, Principal, Thakur Polyclinic in his address briefed the audience about the college courses and its activities.
The function ended with vote of thanks by Mr.SubhajitMaity, the Accountable Manager TIAT at 1345 hours.
A total of 200 personnel from the industry and students fraternity participated in this event.