VAdm G Ashok Kumar, AVSM, VSM, the Vice Chief of Naval Staff with the Controller of Warship Production and Acquisition and Director General of Naval Design in attendance held a curtain raiser today, for the commissioning of 'Khanderi', the second Project 75 Submarine, launch of 'Nilgiri', the first ship of Project 17A and inauguration of Aircraft Carrier Dry dock at Mumbai on September 28, 2019. Rajnath Singh, the Hon'ble Raksha Mantri will be the chief guest for all the three events.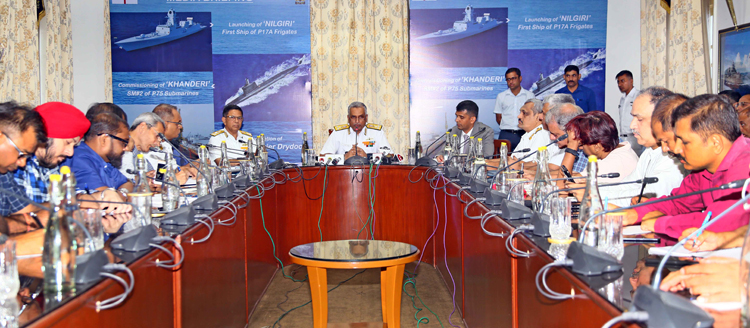 VAdm G Ashok Kumar, VCNS held a Curtain Raiser for commissioning of 2nd Project 75 submarine 'Khanderi', Launch of first P17A ship 'Nilgiri' and inauguration of Aircraft Carrier Dry Dock at Mumbai on September 28, 2019. Hon'ble Raksha Mantri Rajnath Singh will be the Chief Guest for these events.
VCNS ADDRESS – CURTAIN RAISER
Good afternoon Ladies and Gentlemen. As you are aware 28th of this month, the Hon'ble RM will visit Mumbai for a day with the IN. There are 03 landmark events which are planned for the day; one of them is the Commissioning of the 2nd of P-75 submarines to be named 'Khanderi'. The second event is the launch of first of the P-17A ships which is being called 'Nilgiri' as a follow on to the first ever frigate which was built by MDL, way back in early 70's and P17A is the follow-on of Shivalik class. The name of the first one will be 'Nilgiri' and the third event is the Commissioning of the Aircraft Carrier Drydock which is capable of even dry docking Vikramaditya.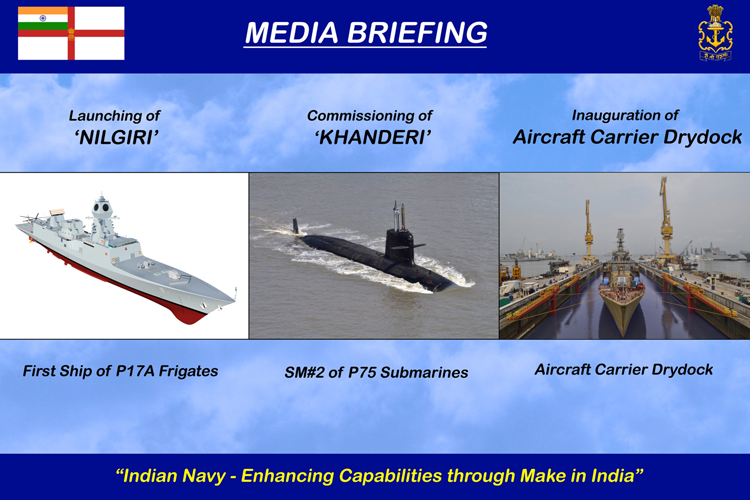 Now, with these 03 events, you will find that the Indian Navy's combat potential, its ability to enhance its reach and sustenance, will grow off many folds. As you are aware, the IN through its mission based deployments and with its enhanced foot print and foreign cooperation endeavours, is already the first responder and security provider in the region of Indian Ocean and beyond. This is totally in line with Hon'ble PM's vision of 'SAGAR' which stands for Security And Growth for All in the Region.
These three events which are on 28th of September have got its own significance. As you are aware any ship or submarine building activity is indeed a huge challenge. It is a technological challenge, plus the complexity of the platform itself will ensure that there are many MSME's and others who are involved in ensuring successful completion of construction. So there is this huge plough-back effect that flows into our own economy in any ship building project.
Again as you already may be aware, out of 51 ships which are under construction at various shipyard in and out of this Country, 49 out of them are with Indian shipyards. So this just not only ensures that capital expenditure that navy spends, most of its actually brought back here. The skill generation, the job creation all of which is the present Government's policy under the overarching policy of 'Make in India', are all being met by the IN's investment in Country.
In so far as the drydock is concerned, as I mentioned it will be capable of docking the largest ship which we have, the 'Vikramaditya', which will enhance our ability to maintain and support ship for decades to come.
The Hon'ble RM after Commissioning of 'Khanderi' and Launch of 'Nilgiri' by Mrs Savitri Singh, the wife of Hon'ble RM, will also inaugurate the dry dock and has plans for spending day at sea with the Navy on board INS Vikramiditya, that is schedule for 28th evening and the 29th forenoon. He will witness all the Naval action including missile firing and various other exercises at sea before disembarking and returning to Delhi.