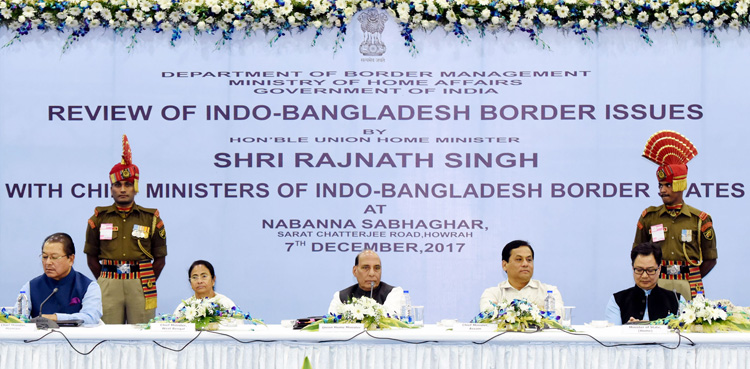 Union Home Minister, Rajnath Singh chairing a meeting with the Chief Ministers and representatives of the Indo-Bangladesh Border (IBB) States, in Kolkata, West Bengal on December 7, 2017.
To check illegal immigration and smuggling through the porus borders of Bangladesh, Centre is planning to setup a security grids in the border states by bringing the central and state security agencies together.
Union Home Minister Rajnath Singh, on December 7, chaired a meeting with the Chief Ministers of the Indo-Bangladesh Border (IBB) States, in Kolkata which was attended by Minister of State (Home Affairs) Kiren Rijiju and Chief Ministers of West Bengal, Assam and Mizoram and decided that the 4096 km long Indo-Bangladesh border will be secured through physical and non-physical means and a Border Protection Grid (BPG) will be setup for foolproof security of the border.
The Rohingya crisis in Myanmar has triggered massive influx of Rohingya migrants into Bangladesh who intends to enter India. Intelligence agencies fear that the militants may enter India in disguise of migrants. This has made the porous border of Bangladesh a major security concern for the Centre.
Highlighting the concept of BPG for multi-pronged and foolproof mechanism to secure our border, Rajnath Singh in the meeting said that grid will comprise of various elements namely physical barriers, non-physical barriers, surveillance system, Intelligence agencies, State Police, BSF and other State and Central agencies.
BPG will be supervised by a State level Standing Committee under the chairmanship of respective Chief Secretaries. Union Minister also sought active anticipation from the state governments for putting in place the BPG.
Out of 4096 km, so far 3006 km is fenced with border security infrastructure like roads, floodlights and border out posts (BOPs) and out of the remaining 1090 km - 684 km will be secured with fence and the related infrastructure, and the balance 406 km with the non-physical barriers.
Although bulk of the infrastructure is in place or under construction, construction in some parts is yet to commence mainly due to land acquisition issues.
The meeting was attended by Minister of State (Home Affairs) Kiren Rijiju, Chief Ministers of West Bengal, Assam and Mizoram, Union Home Secretary, Secretary (Border Management), MHA, DG BSF, Chief Secretary Meghalaya, Secretary, Home, Tripura.
Rajnath Singh had earlier conducted review meetings for Indo-China, Indo-Myanmar, Indo-Pakistan borders.
The Bangladesh border is porous as the geography is riverine and the numerous rivers, nullahs and rivulets criss-cross between the two nations making the fencing unfeasible. Government plans to acquire "technological solutions of a networked combination of electronic gadgets like radar, day-night cameras, and various types of sensors etc. all integrated in a command and control architecture."
Appreciating the role of BSF, in securing the border, Rajnath Singh reiterated that they should be more vigilant.