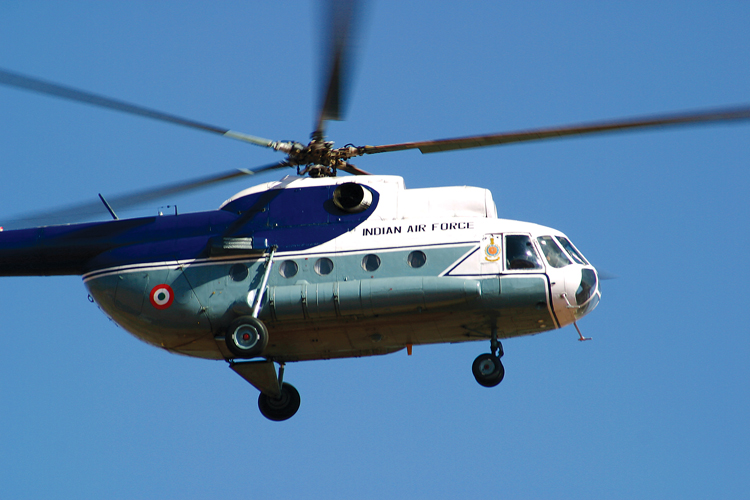 After a glorious 45 years of service, Mi-8 also known as the "PRATAP", once the back bone for medium lift helicopter capability in Indian Air Force, flew its last mission on December 17. A formal phasing out ceremony was held at the Air Force Station, Yelahanka in Bengaluru.
Former air chief Air Chief Marshall Fali Homi Major (Retd.), flew the last Mi-8 mission along with Commanding Officer of the 112HU, which is the alma mater of HeliLift, has the record of passing out 119 pilot courses, 89 Flt Eng courses and 57 Flt gunner courses. Mi-8 was the ideal platform for graduation of medium lift helicopter aircrew.
Pratap, built in Russia at Kazan helicopter factory, arrived in India in the year 1971 at Bombay and were formally inducted in the Indian Air Force helicopter inventory in the year 1972. Till 1988, IAF inducted 107 of these helos which populated ten operational helicopter units and operated in several major IAF operations including Operation Meghdoot in the Siachen Glacier and Operation Pawan in Sri Lanka.
India now operates Mi-17, an upgrade of Mi-8, for its medium lift requirements. Since 2008, India has purchased 151 Mi-17V5, the most advanced version of Mi-8/17 helicopters and is negotiating a contract for additional 48 of these birds.
Throughout its carrier, Mi-8 was extensively used in humanitarian and disaster relief and transport of VIPs. 112 Helicopter Unit based here at the Air Force Station, Yelahanka, is the last unit to operate this formidable platform.