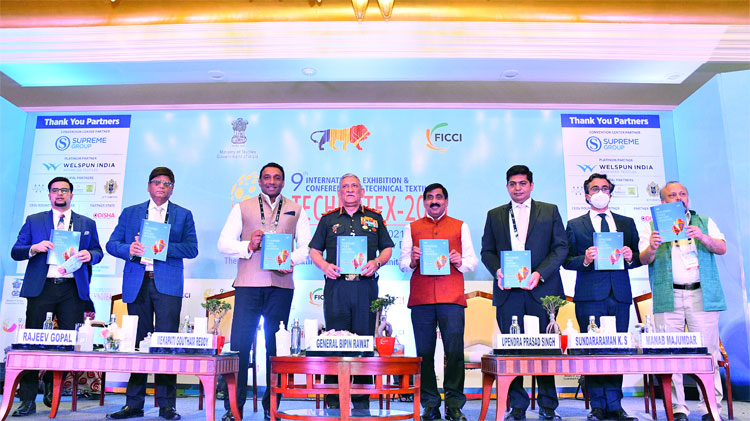 General Bipin Rawat, Chief of Defence Staff, Govt of India today said that armed forces are keen to procure indigenised technical textiles and partner with Indian industries as a part of the Atmanirbhar Bharat initiative.
Addressing the 9th edition of TECHNOTEX 2021 organized by FICCI, General Rawat said that we (Govt of India) will not hesitate to put the entire technical clothing requirement of the armed forces on the negative import list. "Defense services have a huge stake in technical textiles. We are one of the largest users of techno textiles that use technology, and we will continue to use them in the years ahead," General Rawat said.
He further mentioned that techno textile entrepreneurs and those already in this field will help us with the kind of textiles we are looking at. "Our jawans are operating in extreme temperatures and we are looking for kind of clothing that can sustain them in such climate," he added.
Gen Rawat further stated that a large amount of defence technical clothing is being imported but there have also been major innovations within the Indian industry in the past few years. "We have now started placing orders for such clothing," he said.
General Rawat further stated that the armed forces is also considering clothing for special marking or technology that can help us identify friends from foe. He mentioned that armed forces also use lot of fibre material for different purposes like insulation, covering, lining, etc., which must be waterproof, long lasting and possess elasticity. He also identified upcoming areas that would require special, like technical clothing for space missions, stealth technology-based clothing for special forces, special dressing bandages for medical purposes, insect, and mosquito repellent clothing as an emerging area of interest for armed forces.