Defence and security company Saab and Indian infrastructure conglomerate Adani Group today announce a collaboration plan within aerospace and defence in India, aligned with the Government of India's Make in India initiative. The intended collaboration would encompass design, development and production of Gripen for India and other high-tech products of national importance for India and also the creation of joint ventures in India in line with and in support of the Make In India policy.
Saab, in partnership with Adani Group, will discuss possibilities to offer solutions to bring required design and manufacturing capabilities in defence and aerospace to India. A collaboration between Saab and Adani will combine the technical and product excellence of Saab, along with the industrial engineering, system integration and mega project execution capabilities of Adani with the intention to manufacture defence systems locally in India.
With India's focus on creating future-proof and home-grown capabilities across all industries, Saab and Adani will explore how to cooperate to develop a wider aerospace and defence ecosystem in India. A critical part of a joint roadmap would be to encourage the development of small and medium sized enterprises along with a robust national supply chain.
"We are committed to the India-Sweden relationship and in bringing the latest technology and skills to India," says Håkan Buskhe, CEO and President of Saab AB. "The Adani Group is one of India's largest global conglomerates. Adani Group has a long history of enterpreneurship, spanning through decades of dynamic growth."
"Our plans in India are to create a new defence eco-system that would involve many partners, vendors and suppliers. To achieve this, we need a strong Indian partner who can help create the framework for the infrastructure and eco-system to come into place," says Håkan Buskhe, CEO and President of Saab.
"In continuation of our vision of nation building, we are keen to play an instrumental role in helping transform India into a destination for world class high-tech defence manufacturing," says Gautam Adani, Chairman of Adani Group. "We are proud of our enduring relationship with Saab and look forward to partnering in major projects such as Gripen. Our various collaborations in aerospace and defence sectors will help establish new production lines in India, generate employment and build sustainable skills."
The intended collaboration would include Gripen for India. Gripen would be offered to the Indian Government as the best solution for India's single-engine fighter aircraft programme. The collaboration would also include projects, programs and technologies of national importance to India.The parties' plan to develop the relationship into a structure of joint ventures in India for execution of the programs, including the single engine fighter program, in order to support the Make in India policy and exhibit the parties long term commitment to be jointly successful.
Gripen is a modern multi-role fighter aircraft featuring state-of-the-art technology, including advanced data links and sensors plus a unique extensive electronic warfare suite. Gripen can perform all air-to-air, air-to-surface and reconaissance missions with the most modern range of weapons and systems.
The potential that we see is significant
Jayant Baranwal, Editor-in-Chief, SP Guide Publications in conversation with Mr. Håkan Buskhe, CEO and President of Saab AB and Ashish Rajvanshi, Head, Defense & Aerospace of Adani at the Saab and Adani alliance announcement for Aerospace and Defence in India.
Jayant Baranwal: What made you think of defence as a sector to be explored and why? What kind of potential did you forsee?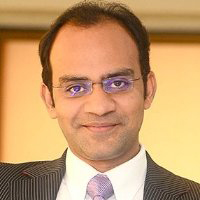 Ashish Rajvanshi
Ashish Rajvanshi: Why defence for Adani? Before I start answering the question on this very specific business, let me share the values that drive the growth and how do we chose our businesses at Adani. The vision of Adani is around nation building! Let me pick up a couple of examples post 1991 when the liberalization happened, there were couple of things happening in country, one was around the food security and second around the supply chain security.
Public sector was definitely playing an important role but the need of the hour required the private sector to step in and to work along some of these areas. That is when Adani stepped in the edible oil business. The same was with electricity business in 2003, it opened the power sector to private participation. The disposable income was increasing and the demand for energy was also ever increasing and NTPC and state gen cos were struggling with the demand and supply gap. That's where we decided to get into the business and there was no previous experience in these sectors.
In 2011, the same story was repeated with the power transmission. Power Grid was there and the demand-supply gap was increasing, Power grid had their books full and the sector opened up for privatization, Vedanta, Adani and 20 other players stepped in without any prior experience. So why defence? Well, it is allied to our core values of nation building and whether we talk of energy security, food security or green security agenda, there is a definite element of national security agenda that is playing in.
There is a need of the hour as we look at the escalating tensions in the western and the eastern borders and as we look at the increasing supply demand gap in the armed forces. Referring to one the comment made by our chairman, "We are spending billions of dollars, but are we actually getting the latest technology within the country?"
The potential that we see is significant, I do not want to put a dollar figure, but I think it is in the terms of securing our borders and becoming more independent. We can talk about India becoming the super power but if we are completely dependent on the US, Russians and Europeans and we do not have the indigenous capability then we haven't met our vision!
Jayant Baranwal: Can you indicate on the potential customers base for Gripen and if you can possibly share the countries along with potential number of Gripens to be sold?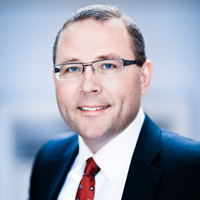 Håkan Buskhe
Håkan Buskhe: There is a fantastic interest for the Gripen in Europe and we already have an install base in at least 5-6 countries. We have an interest from South Africa and more African countries with handful of countries in South America and about 7-8 countries in Asia. I will not point them out because some work needs to be done by my competitors as well!
Jayant Baranwal: How about the potential of Gripen with Indian Navy? Do you really have a maritime version of Gripen?
Håkan Buskhe: We have made the basic design of the naval version. In Sweden we do not have an aircraft carrier, so what we have done is that we have put up a design office in the UK. We have hired specialists and there are people that have been involved in the design of the aircraft for aircraft carrier. We have ongoing discussion in Brazil and as we speak, there are talks with Brazil for full transfer of technology, building of capability and building up of production line as well. And if you like you can fly the simulator and land on whatever aircraft carrier you choose.
Jayant Baranwal: Is the maritime version of Gripen a twin engine?
Håkan Buskhe: No, it is not a twin engine. You need to understand the Gripen E is optimized and will carry more payload than the two engines. If you have two engines you need to increase the fuselage and what you get out of the second engine is just 20%. Having second engine will double the maintenance and you may have recognized that the airliners have one engine these days. The capability of one engine increases so it does for us with GE 414 engine. Affordability gives you the possibility to fly and be up there flying with your pilots with the best technology that we have, you will defeat your enemy.