The company will also present rugged tactical computing solutions and ground control stations based on COTS computers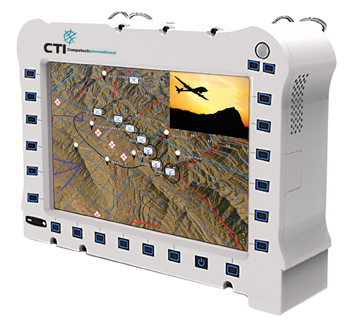 Computech International, CTI - a company specializing in advanced, unique military IT and communication solutions for the harshest conditions - will launch OCTOPUS 360, a situational awareness system designed for use by combat teams in closed-hatched vehicles in hostile environments, at EUROSATORY 2018.
In urban areas, where the force team faces hidden threats, there is a need to have a complete picture even with closed hatches. The OCTOPUS 360 software provides a complete, 360-degree, in-motion visual solution to the soldiers in the armored combat vehicle, performing real-time stitching of video generated by cameras and advanced sensors. The system supports multiple monitors to create a full-view, real-world picture, and has Picture-in-Picture capabilities which display real-time data from various sensors, telemetry streams, markers and graphics sources. It also supports different camera formats and sources, including HD-SDI, GigE Vision, HDMI, IP stream and more. The system offers real-time recording and off-line playback for debriefing and simulation. VR or AR glasses can be connected to improve user experience, and multiple display modes are available to support users with different operational requirements. Finally, OCTOPUS 360 comes with real-time object detection and marking with dynamic tracking, compression and image transmission which enable remote monitoring.
"We developed the OCTOPUS system in response to the defense needs of active combat units using closed-hatched armored vehicles," says Udi Kauf, CEO of CTI. "The system, which saves lives, can be installed on any platform, from light to heavy vehicles, working in-sync with the vehicle's existing electronic systems to provide combat squads with a complete, real-time situational awareness picture, even when they are on the move."
In addition, at EUROSATORY CTI will also be presenting its rugged tactical computing solutions and ground control stations for UAVs/UGVs, based on Commercial-Off-The-Shelf (COTS) computers and tablets, enabling an exceptionally short ruggedizing process and the highest quality, using the most advanced computers on the market. Applications for the solution range from AFVs, including wheeled and tracked combat vehicles, tanks, artillery and APCs, to digital soldier solutions.