Rockwell Collins recently announced the new Managing Director. Sunil Raina, the new Managing Director, will be leading the company's strategy for continued investment and long-term growth in the country. Raina joined Rockwell Collins' Singapore office in 2005 where he was actively involved in defining the strategies for the company's commercial aviation and services business in the Asia-Pacific region. Previously he led Rockwell Collins' Commercial Systems in India and was successful in developing customer relationships that established Rockwell Collins as the preferred avionics partner for leading airlines in India.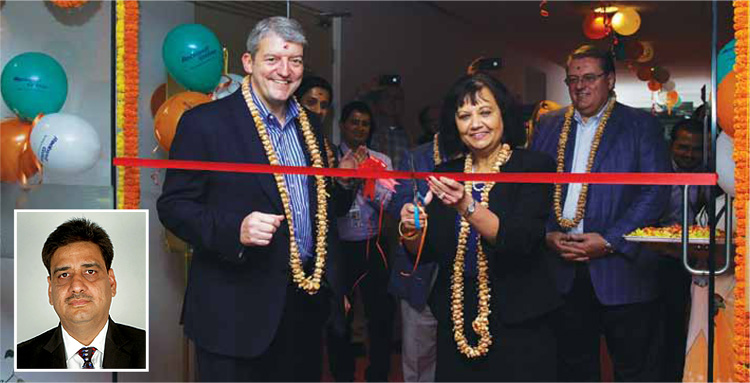 Expanding base in India: Rockwell Collins has opened a new, expanded facility in Bengaluru. "The opening is a reflection of our commitment to India, as well as the increasing demand for services from our India Design Centre in Hyderabad," says Sunil Raina (inset) who took over as the new Managing Director of Rockwell Collins India. "We chose Bengaluru because of the high concentration of engineering talent there and the fact that it is an aerospace hub," he added.
Jayant Baranwal (JB): What is Rockwell Collins' focus in India?
Sunil Raina (Raina): Rockwell Collins is well entrenched in the commercial aviation market as well as the defence market in India. For commercial aviation, we have company's advanced avionics, including communication, navigation, surveillance and information management systems for IndiGo, SpiceJet and Jet Airways, and its Dispatch asset management performance based services for Air India's Boeing 787 fleet. Rockwell Collins advanced avionics, cabin and information management systems is part of most business aircraft throughout the region.
For defence applications the company is focused on communications and avionics solutions that provides enhanced situational awareness solutions for fixed and rotary-wing aircraft, as well as SATCOM, electronic warfare (EW), and networking systems. We are a communications company; we have a new product, TruNet, which we want to bring to India. The product is exportable, ready for transfer of technology and highly customisable. With the multi-waveform capabilities, TruNet is the first system of its kind that enables civil and governmental users to use existing or develop their own proprietary waveform and crypto to meet their sovereign mission needs.

With the multi-waveform capabilities, TruNet is the first system of its kind that enables civil and governmental users to use existing or develop their own proprietary waveform and crypto to meet their sovereign mission needs
All products that are part of the TruNet network run the exact same waveforms and capabilities, which provides the potential to support countries' civil and military forces by enabling them to 'plug and play' and work seamlessly together. The system's software defined radios (SDRs) provide multiple waveforms, both narrow and wideband, high speed, mobile ad hoc networked communications, point-to-point data, voice and next-generation SATCOM capabilities. Importantly, we are exploring the potential usage of TruNet around the globe and therefore we can say that we are, in fact, offering the first-hand technology to India at this juncture. We will be showcasing this product at Defexpo 2016. We are working with the Electronics Corporation of India Limited (ECIL) on the front of Electronic Counter-Counter Measure (ECCM) radio modules for Do 228 communications and navigation equipment being provided to the Hindustan Aeronautics Limited (HAL). These systems are being used by Indian Navy on their P-8I and helicopters, and also by the Coast Guard and the Air Force. We also provide 721S Fixed Site Ground radio as part of an advanced telemetry system for the Indian Air Force through Park Controls & Communications (P) Ltd.
JB: Tell us something about your facilities in Bengaluru and Hyderabad?
Raina: We aim on how to bring the latest technology in India and have the best partnerships and to grow our engineering facilities and leverage for the existing market and develop for the rest of the world. With the new engineering office opening in Bengaluru, our strategic alliance with Zen Technologies for simulation and training sees a tremendous enthusiasm and boost for the 'Make in India' policy. This includes helping airlines by providing systems for more efficient operations, advancing the military with state-of-the-art avionics and communication technologies, and even helping with passenger flow through airports with more advanced passenger processing systems.
Rockwell Collins' design centre in Hyderabad augments the company's existing engineering capabilities. The India Design Centre (IDC) is dedicated to product development for global markets, with initial work focused on the design of display applications for commercial and military customers and flight management systems. The IDC currently has 630 employees with plans to continue to grow the facility.
JB: What are your expectations from India in the next 10 years?
Raina: With the new government things are happening at a faster pace and moving in the right direction. Government is trying to do some things differently. We are hoping to see something very soon both in civil and defence.
JB: How about Rockwell Collins' involvement in business aviation?
Maureen Stevens (Maureen): We are expanding our Corporate Aircraft Service Program (CASP) to reach both operators seeking a scaled-down programme and those preferring a more encompassing programme. Rockwell Collins has developed CASP Elite, which includes more maintenance services, FMS updates and discounts on international trip support. The company also is offering CASP Essential, aimed at entry-level jet or turboprop operators and with a lower minimum flight hour per aircraft requirement.
Raina: In fact India is doing very well for our CASP programme, last year India has seen the maximum number of takers for this service in the APAC.
JB: You mentioned that your 43 per cent business is outside US. Which markets contribute the maximum?
Raina: Europe and Middle East contribute a major share.
JB: Your take on the Civil Aviation Draft Policy and what is your involvement with MRO?
Raina: More the number of aircrafts means more equipment for us! The government is listening, atmosphere is conducive and the vibes are positive. The Minister and Secretary are very open to ideas and solutions. How it shapes up is to be seen.
We are involved with MROs in two ways – directly, like Air India, where we take up the whole logistics part of the MRO and work on dispatch reliability and the other involvement is as a service. We have an across India coverage on the MRO with Air Works, Indamer, Jetstar and Shaurya.
JB: What is the size of Rockwell's investment on R&D?
Maureen: We contribute 20 per cent to R&D, which is consistent over the years and is pretty large compared to our peers.
JB: Do you have some solutions for combating terrorism?
Maureen: Rockwell has the ground-based detection system – Patrol Persistent Surveillance System (PPSS). The PPSS combines sound, vibration and imaging sensors for enhanced situational awareness and the constant monitoring of threats against military bases, forward observation posts and other secure facilities. The PPSS network automatically recognises new sensors 'on the fly,' so there is no need for the operator to manually reconfigure the system.